1
2
3
4
5
6
7
8
9
10
11
12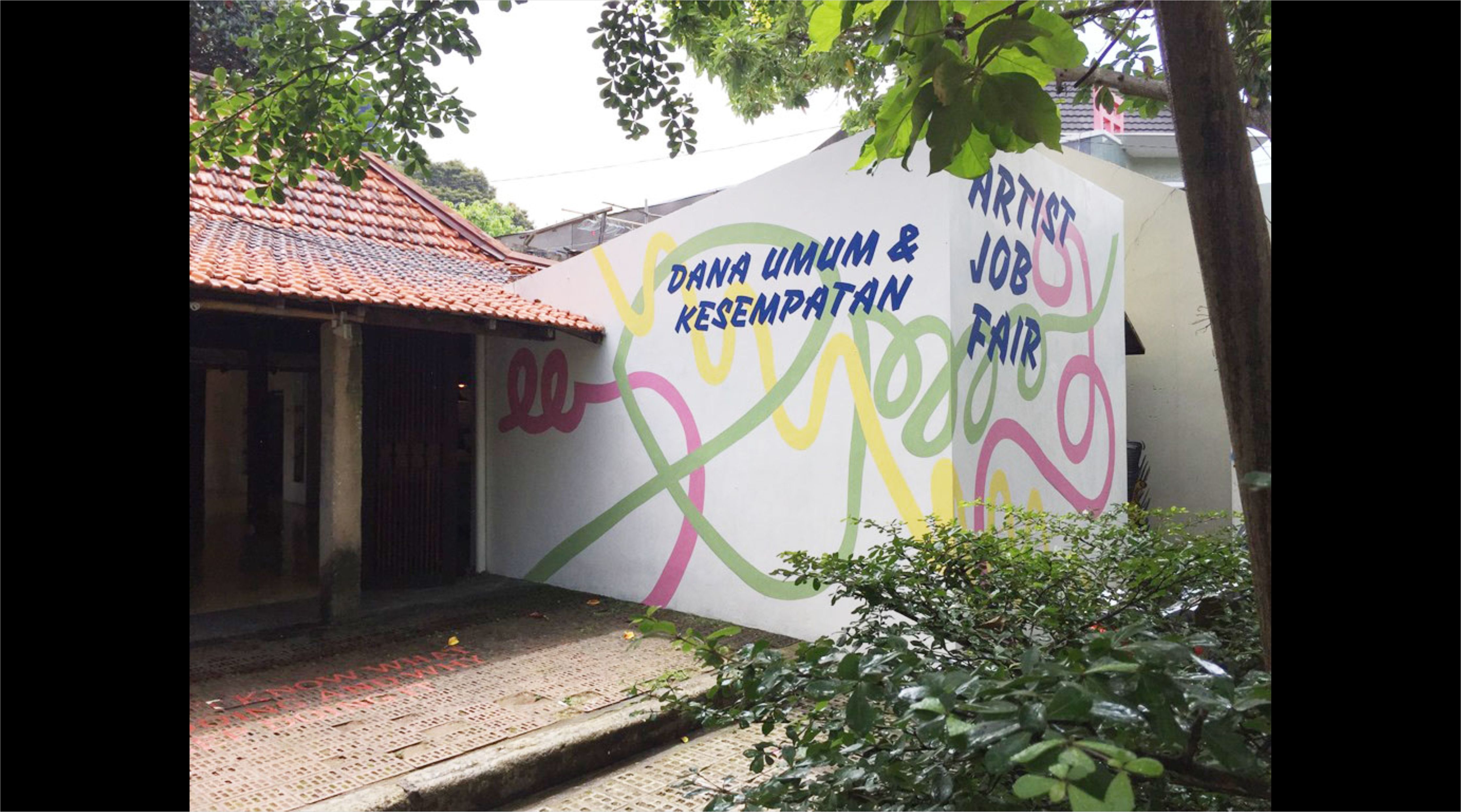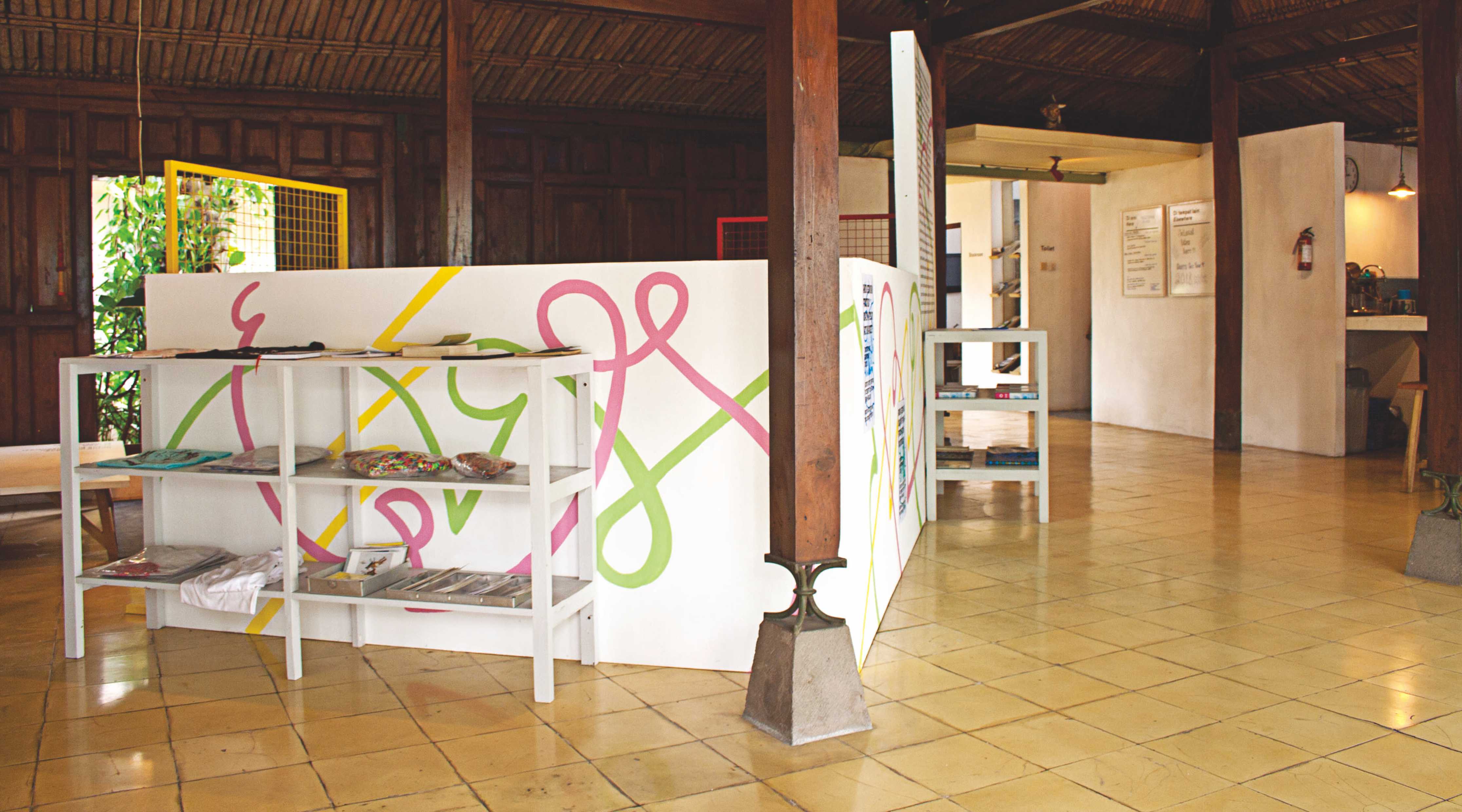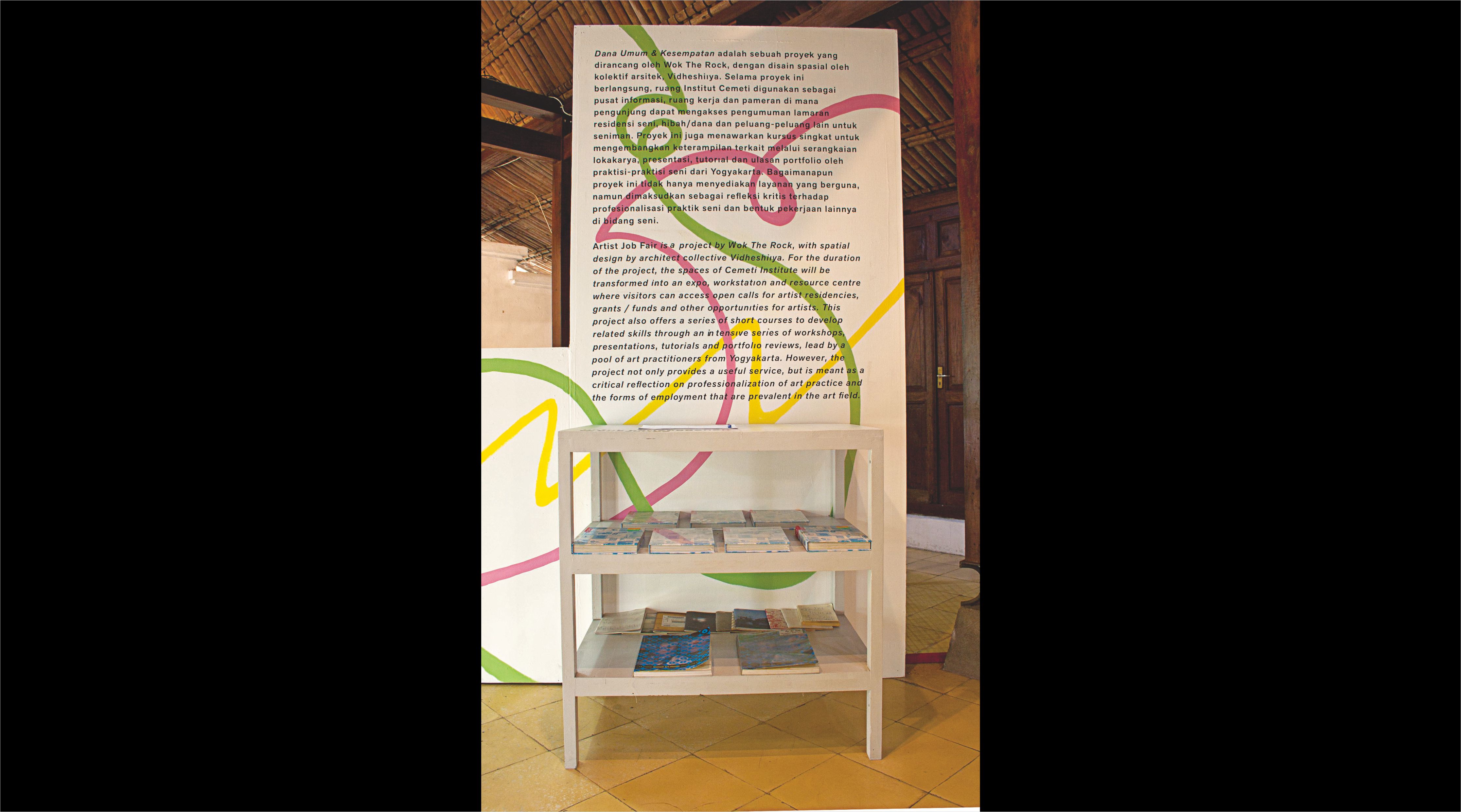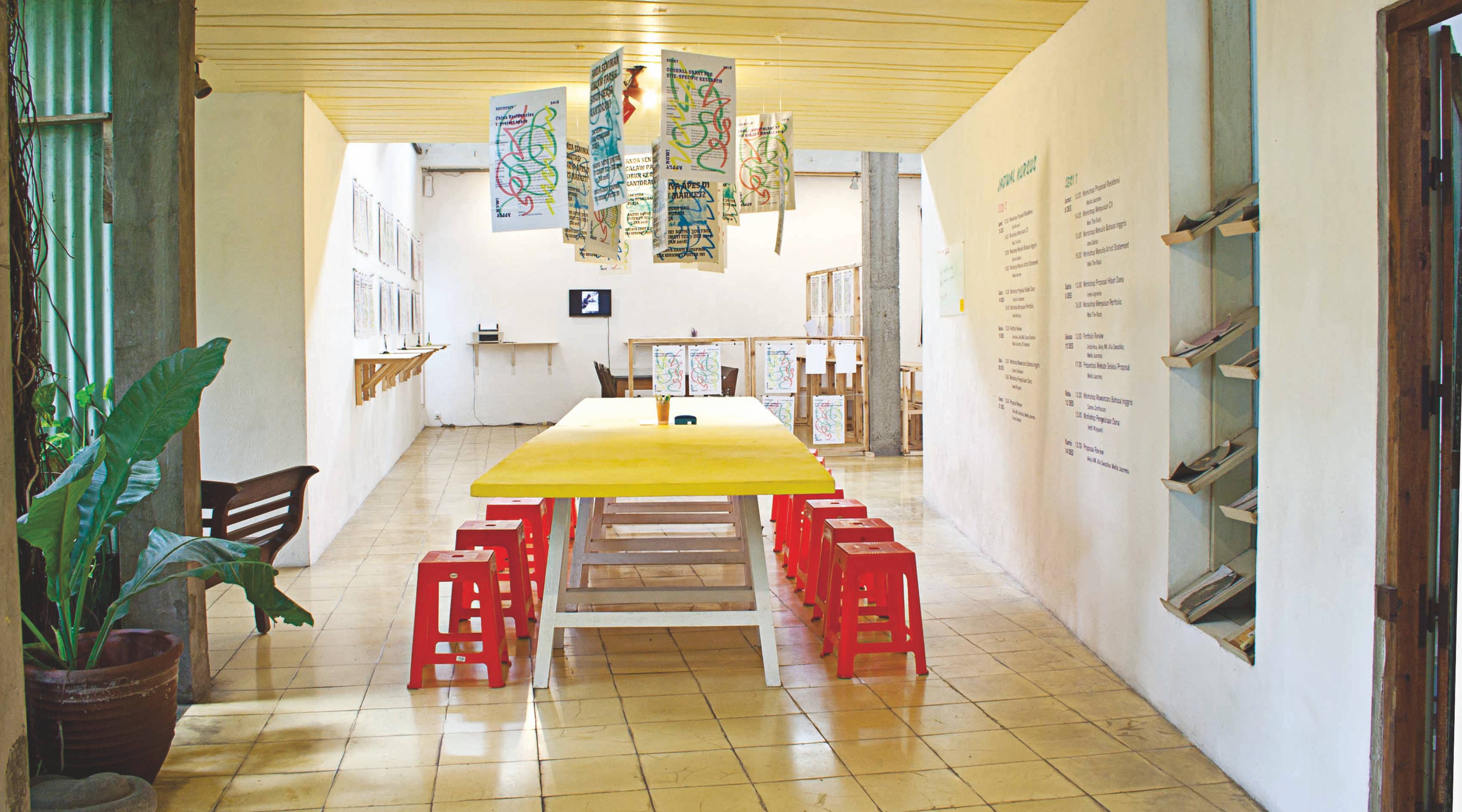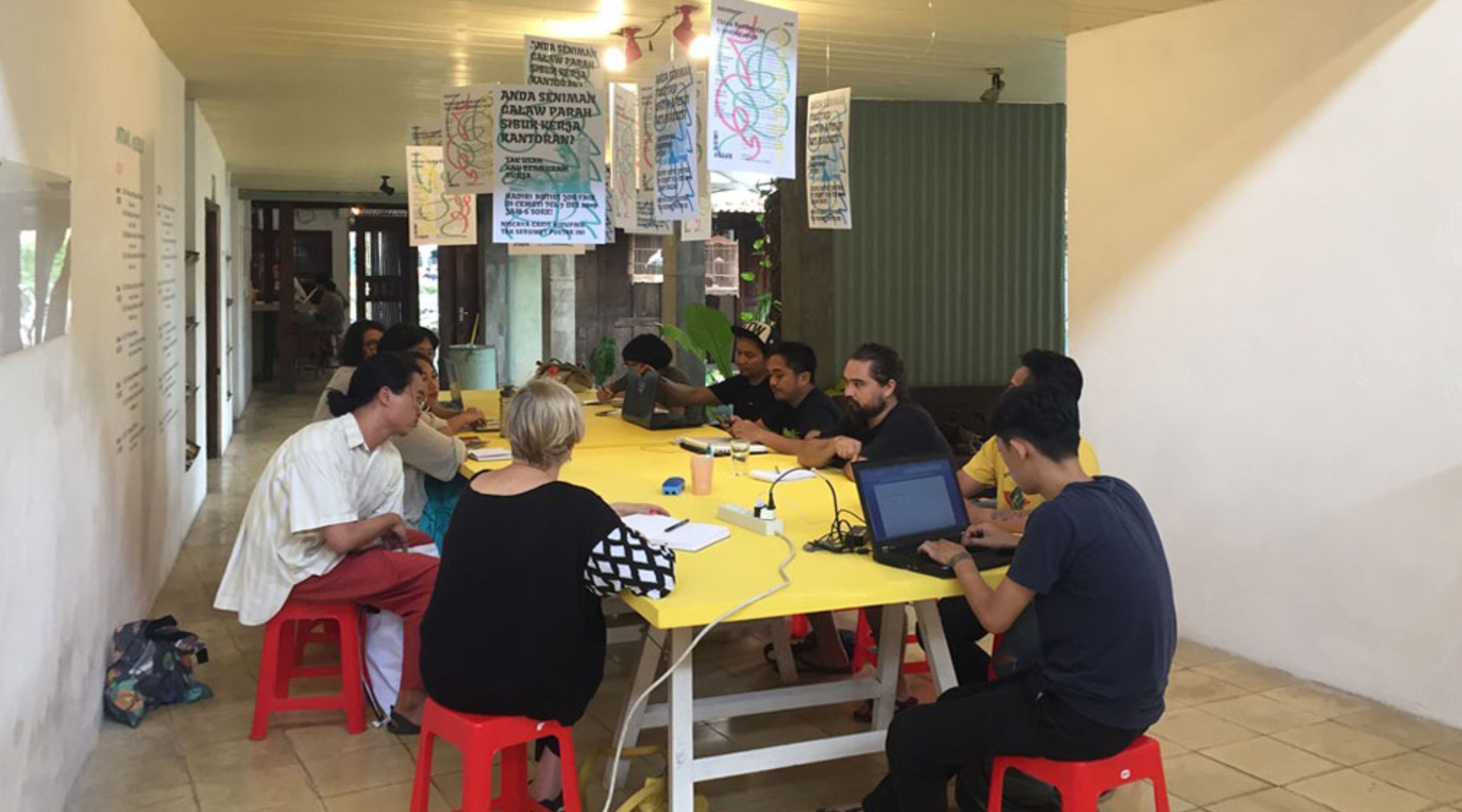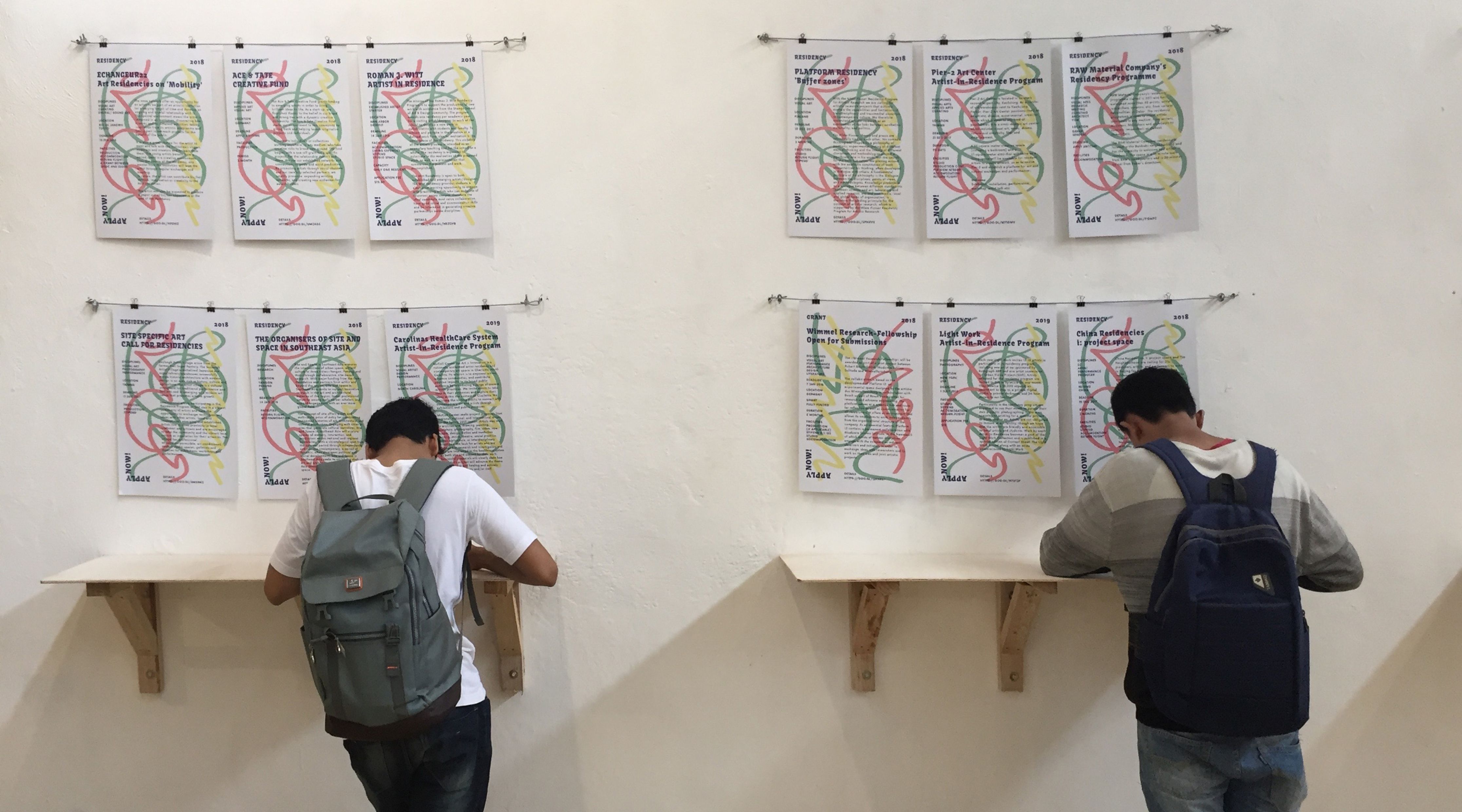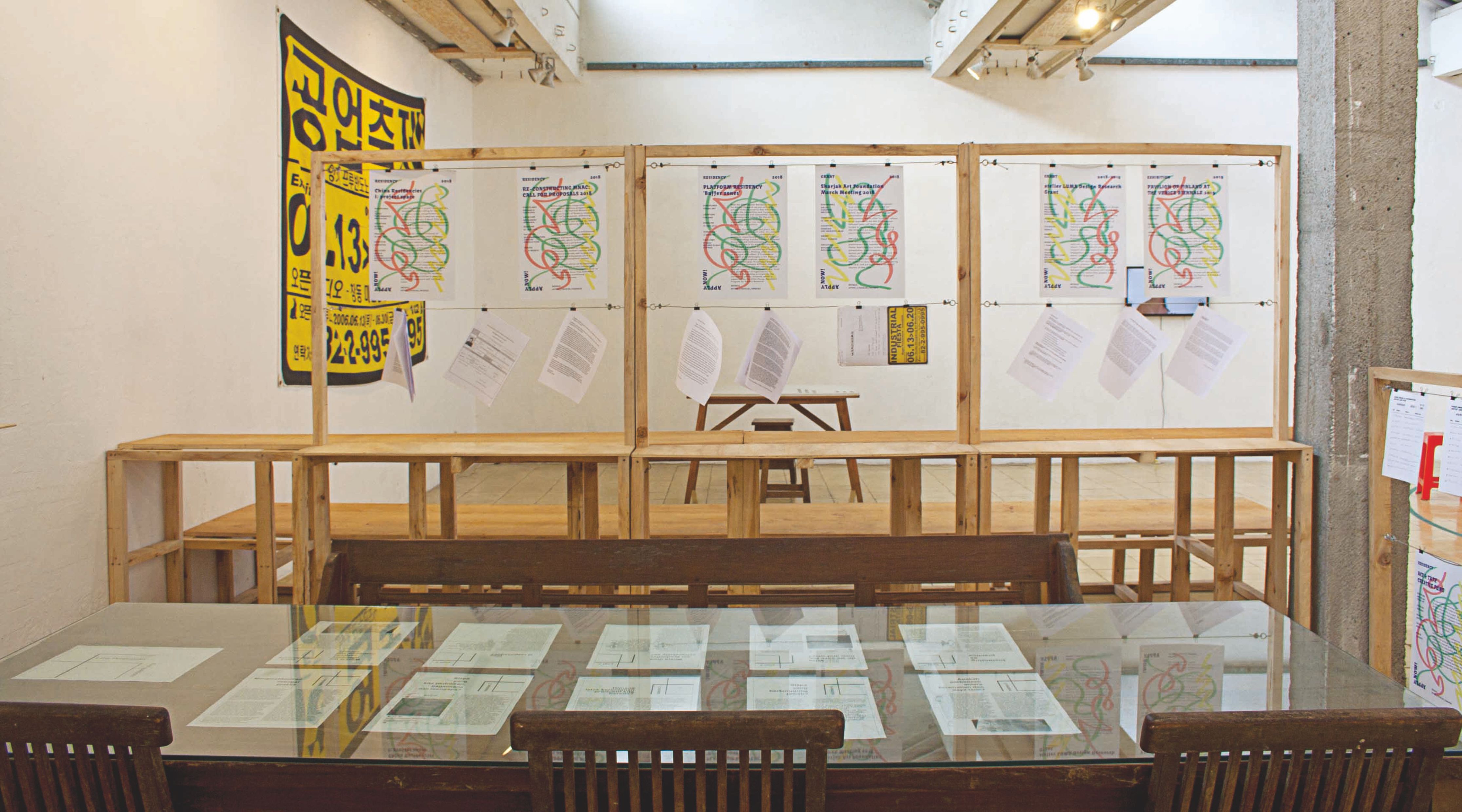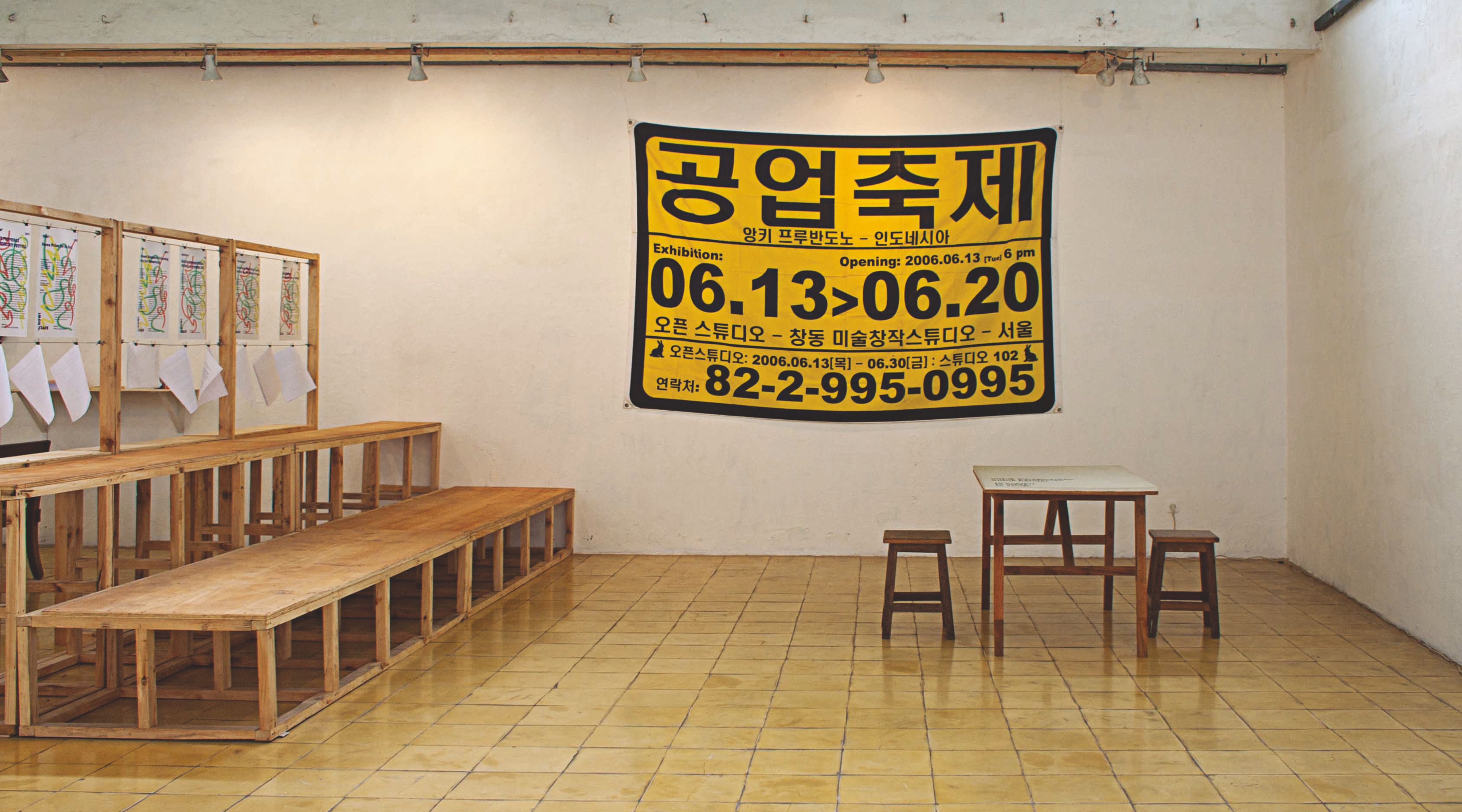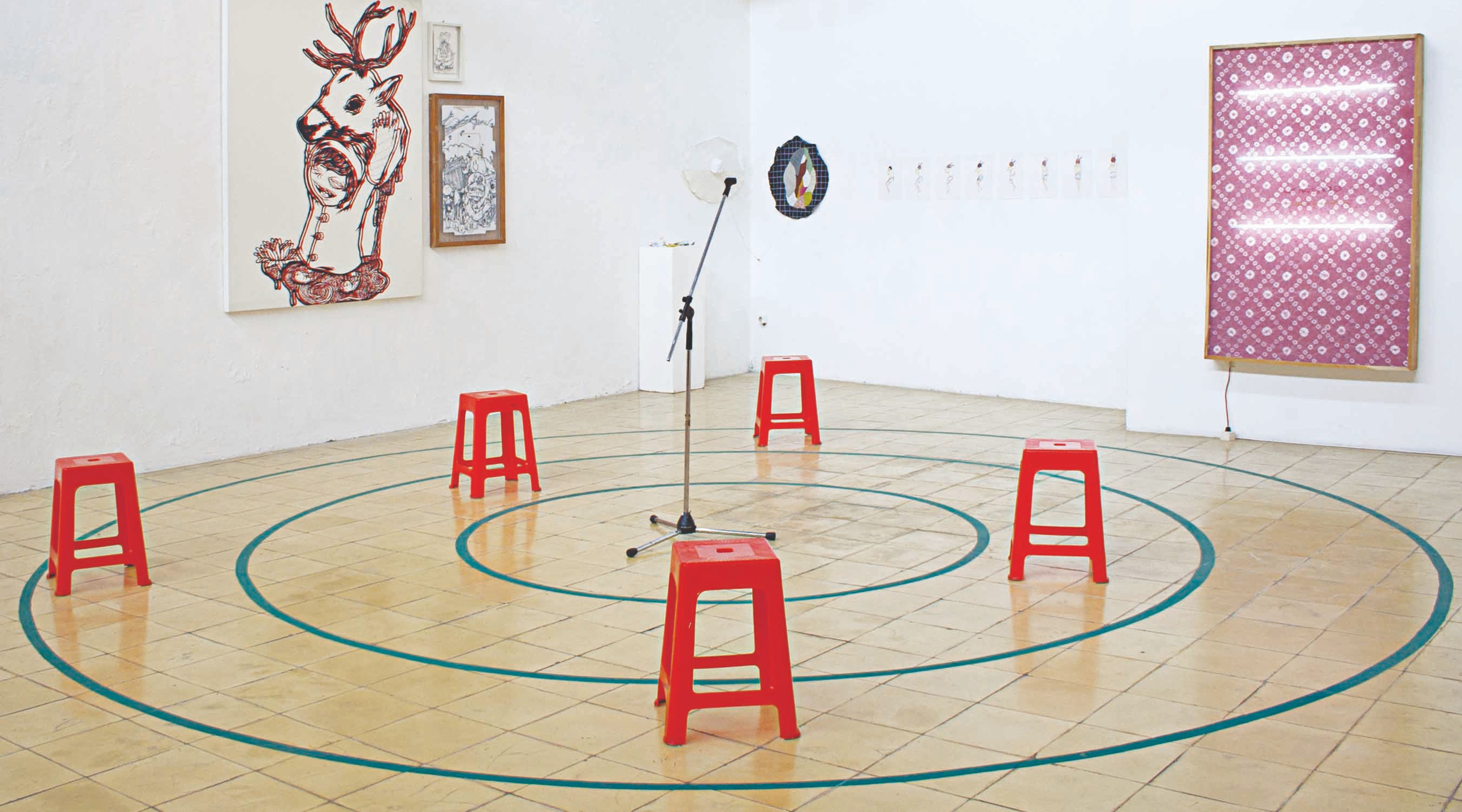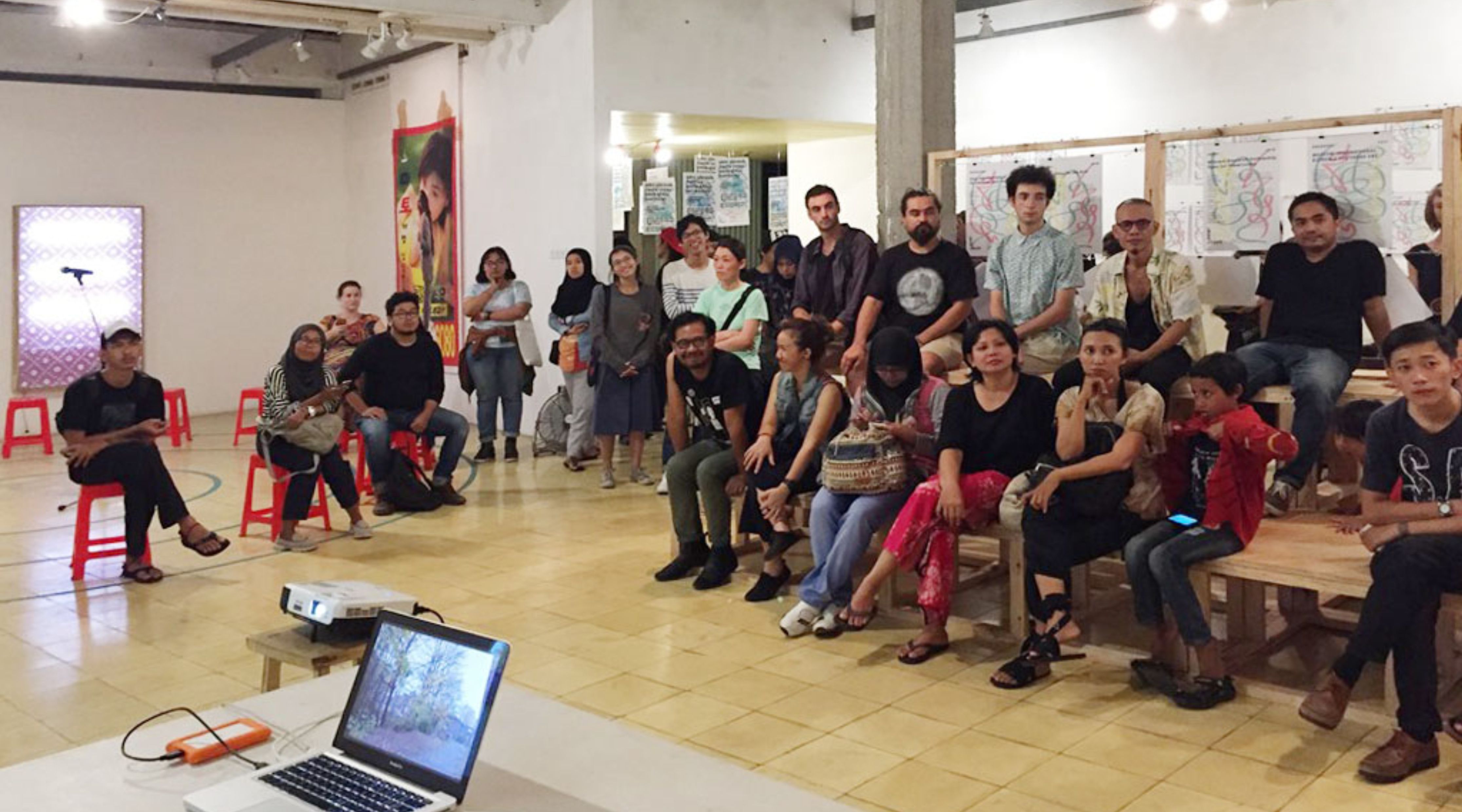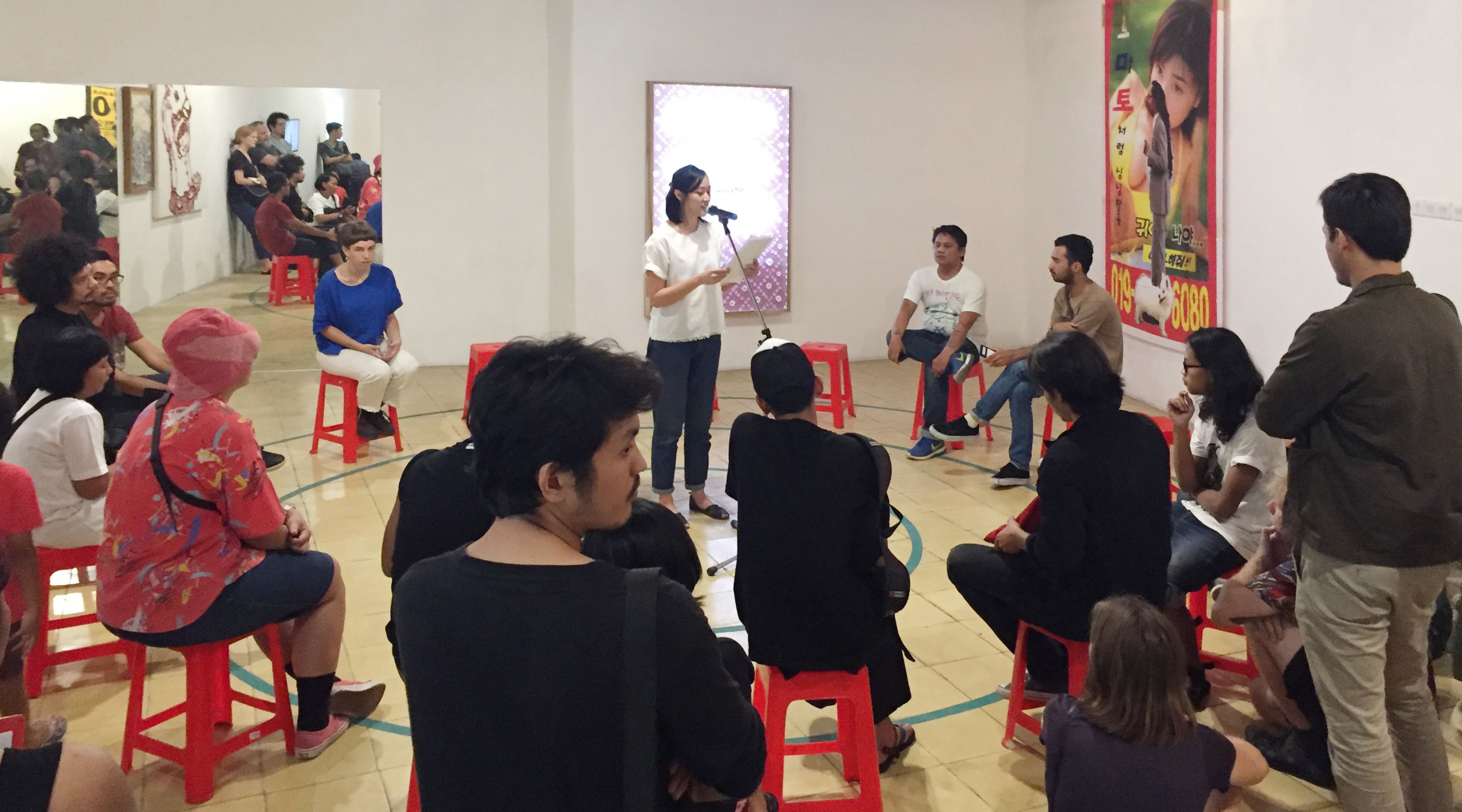 Dana Umum & Kesempatan | Spatial Design for Artist Job Fair
Location
Cemeti - Institute for Art and Society
Status
Completed | Temporary
Designers
Niniek Febriany
Stephanus Theodorus
Russelin Edhyati
Graphic Design and Illustration
Exhibition Prologue
Artist Job Fair is a project by Wok The Rock with spatial design by Videshiiya. For the duration of the project, the space of Cemeti Institute will be transformed into an expo, workstation, and resource center where visitors can access open calls for artist residencies, grants/funds and other opportunities for artists.
This project also offers series of short courses to develop relevant skills through intensive series of workshops, presentations, tutorials, and portfolio reviews, conducted by art practitions
from Yogyakarta.
However, the project doesn't only provide a usefull service, but also meant as a critical reflection upon professionalization of art practice and forms of employment that are prevalent in the field of art.
Dana Umum & Kesempatan adalah sebuah proyek oleh Wok The Rock dengan rancang ruang oleh Videshiiya. Selama proyek ini berlangsung, ruang institut Cemeti akan bertransformasi menjadi pusat informasi, ruang kerja, dan pameran di mana pengunjung dapat mengakses pengumuman lamaran residensi seni, hibah/dana dan peluang-peluang lain untuk seniman.
Proyek ini juga menawarkan kursus singkat untuk mengembangkan keterampilan terkait melalui serangkaian lokakarya, presentasi, tutorial, dan ulasan portfolio oleh berbagai praktisi seni Yogyakarta.
Bagaimanapun proyek ini tidak hanya menyediakan layanan yang berguna, namun juga dimaksudkan sebagai refleksi kritis terhadap profesionalisasi praktik seni dan bentuk pekerjaan lainnya di bidang seni.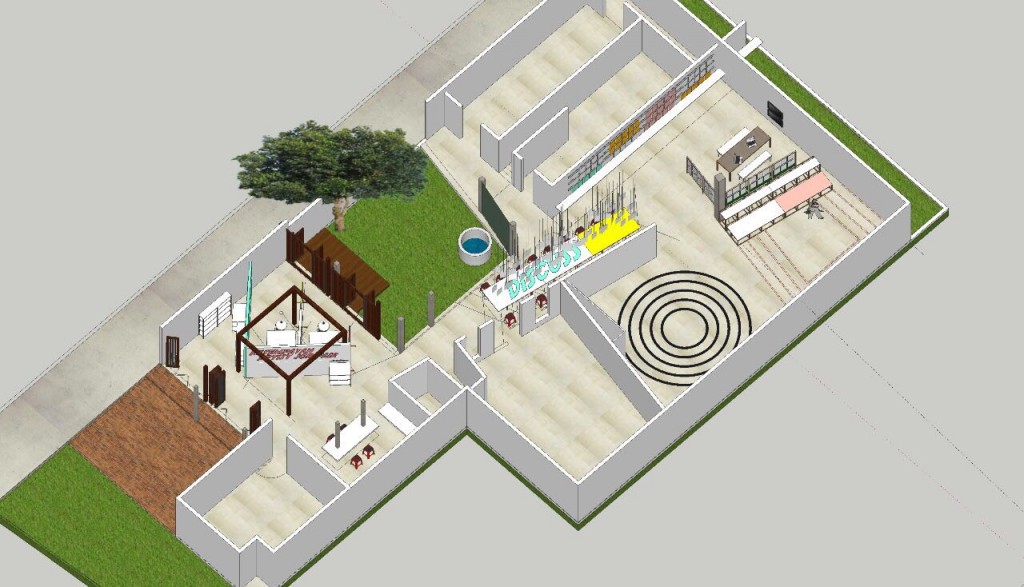 What does it mean being an artist?, what do they do? what kind of art do artists do? and for who?
The rise of creative industry over the last ten years in Indonesia triggers our society to become more and more concern and sensitive towards anything aesthetic.
profession such as architect, designers, photographers, graphic designers rises, setting new era for our economy and lifestyle.
This Exhibition by Wok The Rock eventually criticize the commercialization of art and offers other way of "employment" so that instead of selling a trendy art, artists might be able to tell their own word of god(s), their own preach through their work without any distraction from commercial's and market's point of view.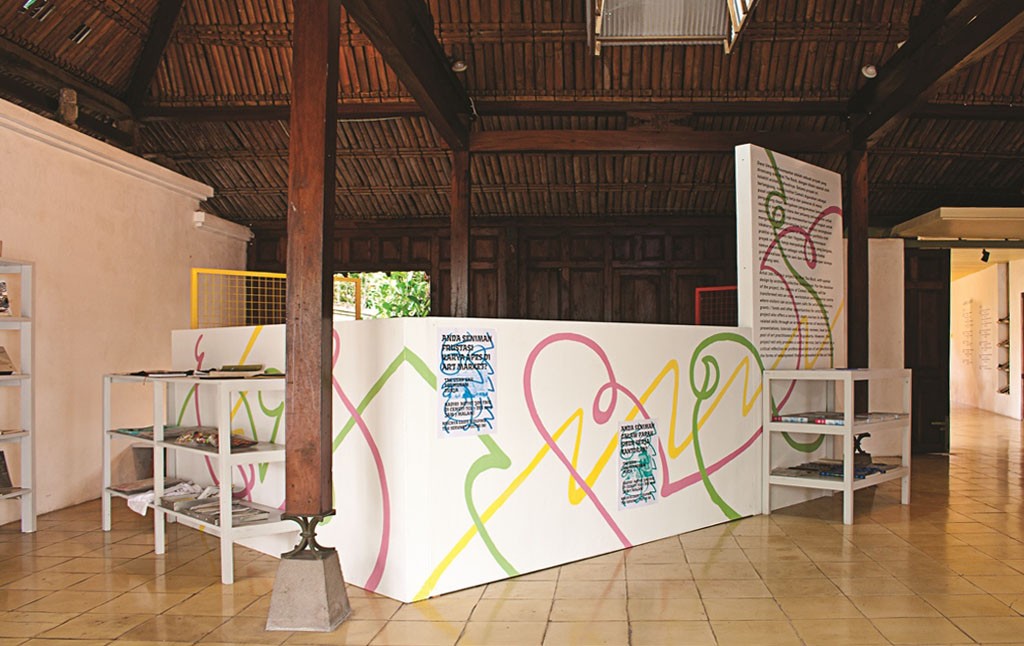 manifestation of this critic must be present in the design so, instead of showing art, the exhibition shows the offering, the options or somekind of path on becoming an artist through series of "career" and "employment" experience, or in short; a job fair.
The layout of the exhibition itself must be formal, understandable: diagonal wall layout suggesting the only way in, prologue at the front, discussion table in the middle accomodating (dominant) group of smokers shadows by installation of open calls "sale advertisement" made of hanged paper, and more intimate working area inside the main gallery.
The main gallery itself divided into three functions: circle group discussion area, amphitheater to accomodate presentation activity, and a working area where people could meet and take notes.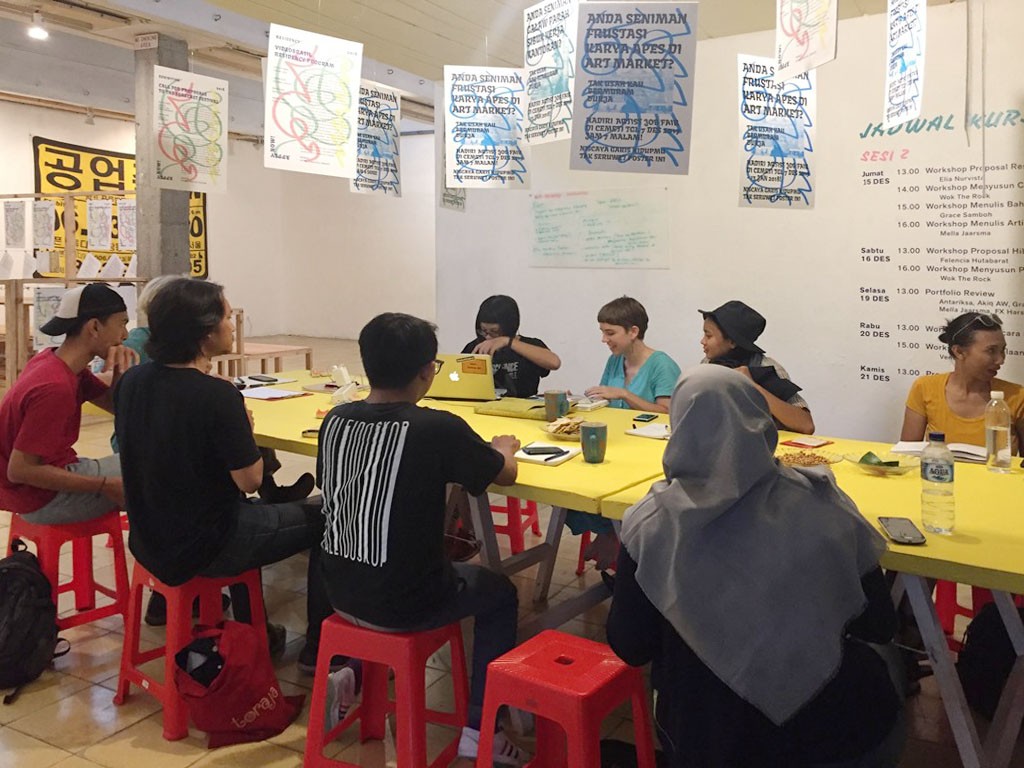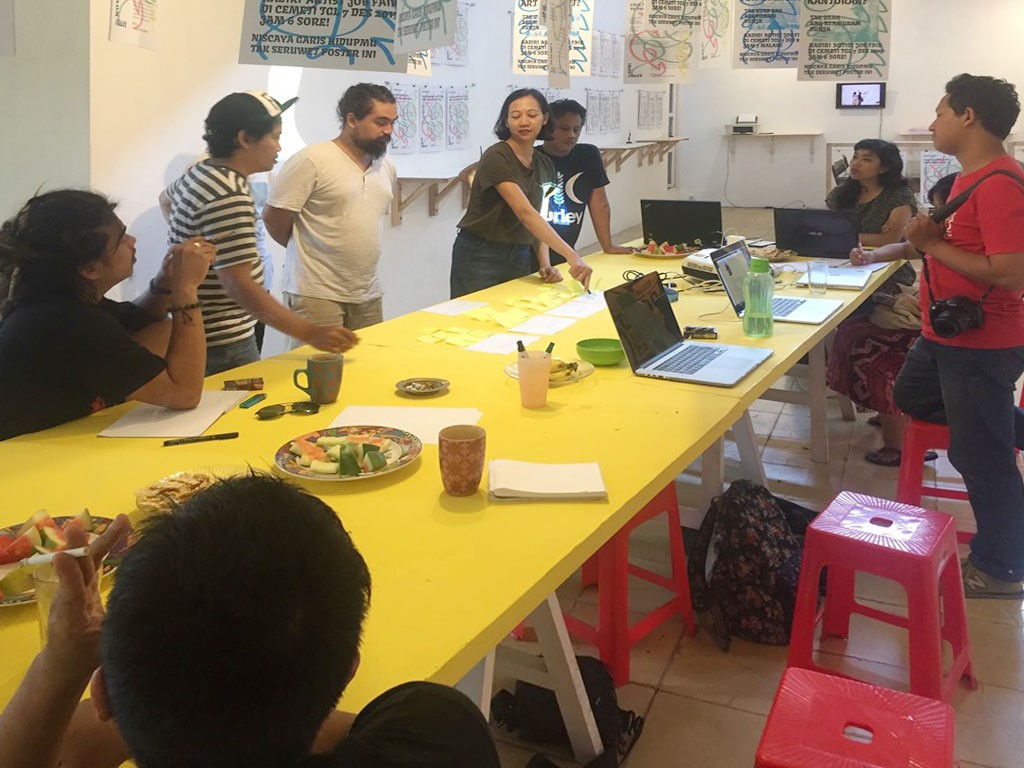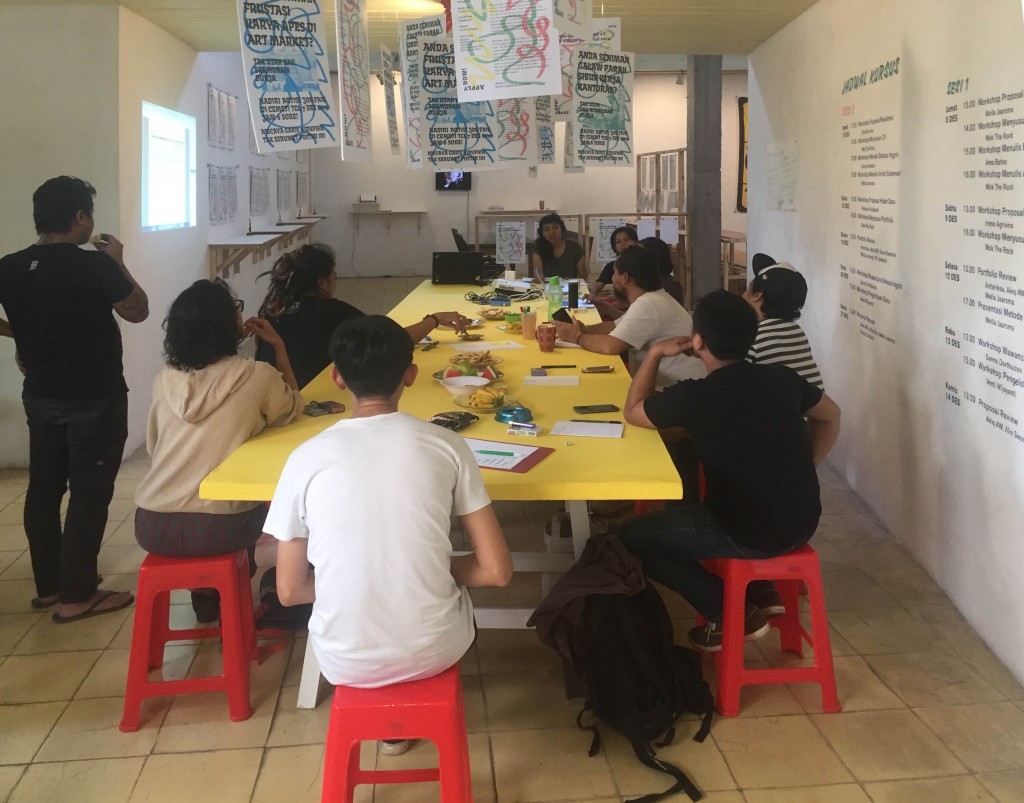 Slipping tiny program inside each function is important to optimize the small exhibition space. For example: behind the diagonal front walls is one on one portfolio review area, an intimate hidden area in the realm of public front, while the main gallery, under certain order might also become one on one review area. Blurring the hierarchy of public and private, transforming each function into sets of multifunctional program.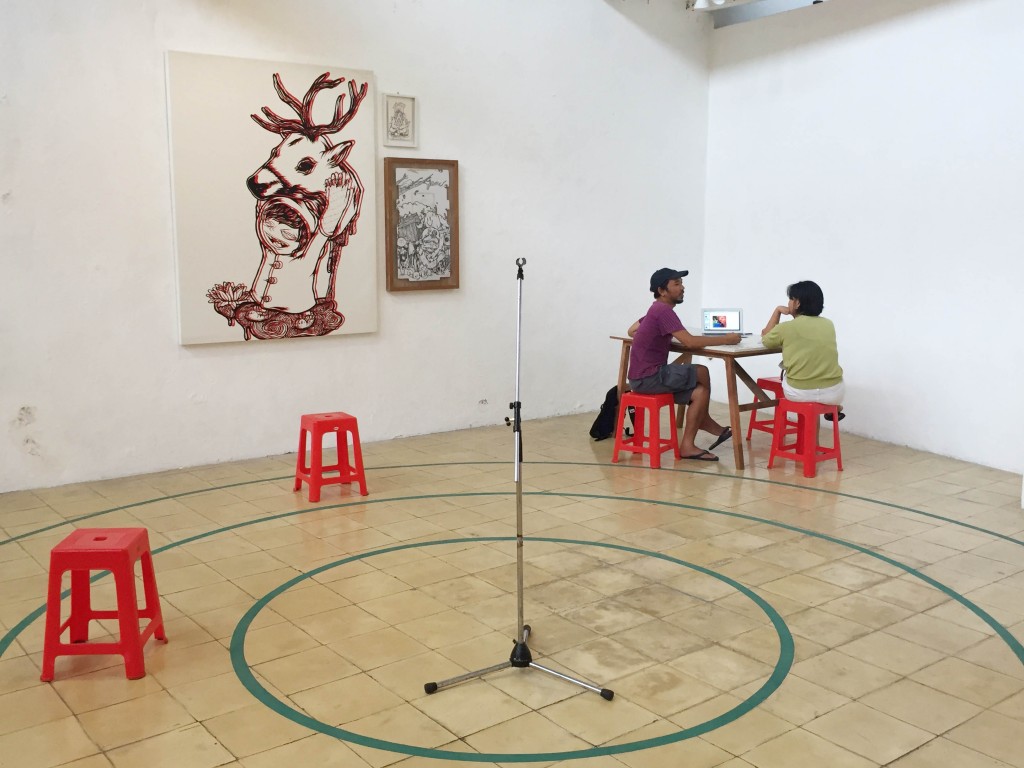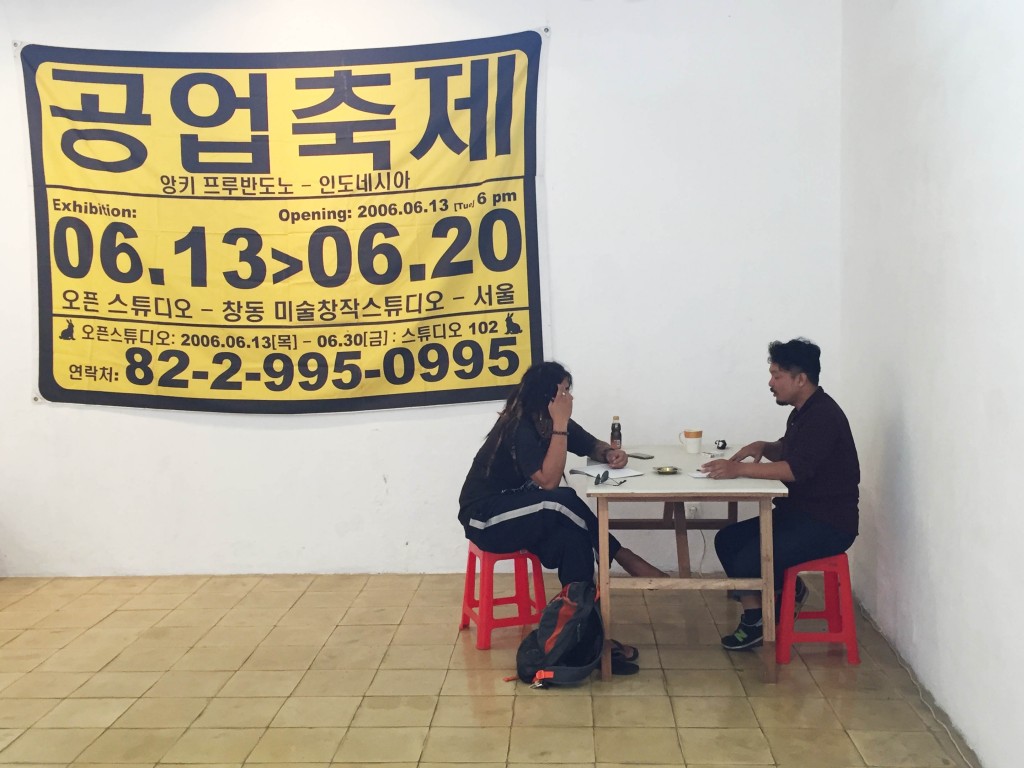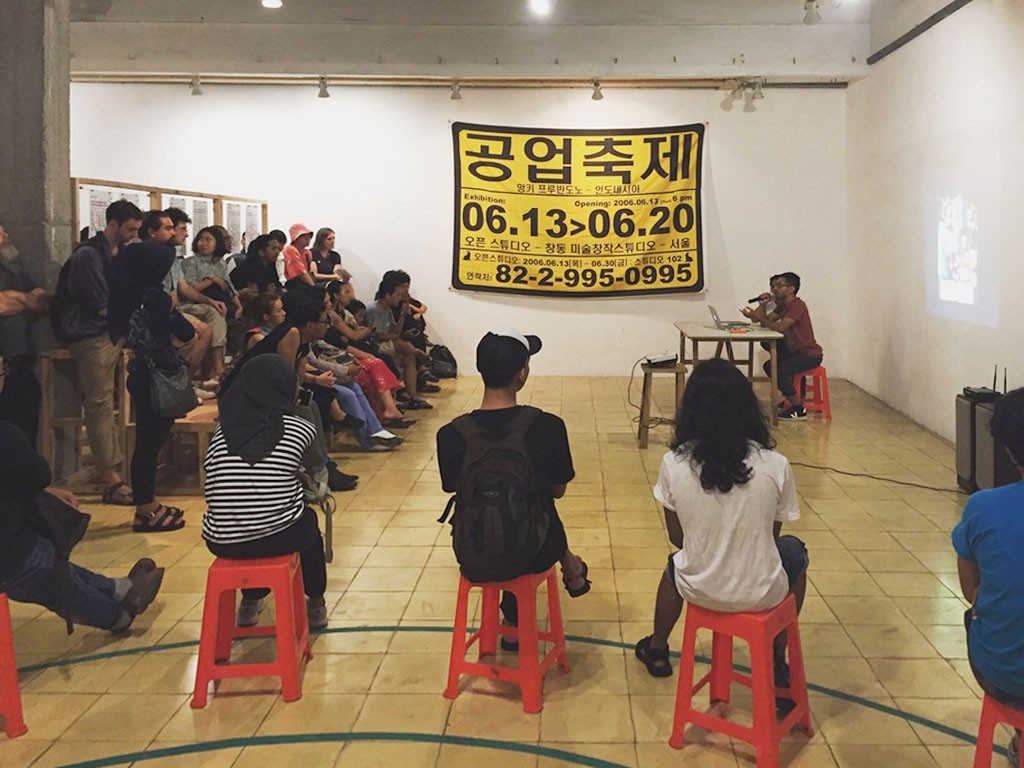 All Photos are Courtesy of Cemeti-Institute for Art and Society
Exhibition Prologue Text by Wok The Rock