KOMA | Flirtitious Theater Persuading Cultural Relevancy
Location
Taman Sriwedari Surakarta
Designers
Niniek Pebriany
Gilang Rizki
Taman Sriwedari is one of important central of entertainment in Surakarta, complete with three cultural heritage building within the park. It is safe to say the development of this park holds important role for the future of Surakarta urban entertainment and cultural development.
The Wayang Orang performing arts center (GWO = Gedung Wayang Orang) hoped to trigger new ways of revitalizing the area.
There's only one agenda: To breath new soul to the area without destroying the historical figure within in such way persuading cultural relevancy to the present area.
A few options we see according to the site:
1. Do we need new building packaged with traditional architecture?
2. Do we need new building with the same rhythm of traditional architecture?
3. Contrast building, blurring three heritage objects carrying relevancy with contemporary present.
Option 1 have already been proven unsuccessful. It is neglected and unable to bring Wayang Orang as intangible cultural heritage further than decent ordinary performance, while we know, now we need more than decent, more than ordinary to make Wayang Orang noticeable again.
When we come into Taman Sriwedari, we could feel nostalgia and romantic feelings. Welcome by two giant Banyan trees, on the east we could see Radya Pustaka, on the south, Kolam Segaran, legacy of Paku Buwono IV. It stops there. What we do not see is the sign and sense of present.
We need to send a message from the present, injecting modernity to appreciate the past more than ever.
The stigma of novelty has always been negative in heritage site, when it should have not feel that way. It is never a competition between the past, present and future, there's only coexisting.
KOMA
Koma in Indonesian medical terms means unconscious within unclear period of time. while spiritually, Koma identical with people between life and death, the only time people can float and connected between two dimension. Meanwhile Koma in linguistic terms is a mark indicating division in a sentence.
Our concept of Koma means to mark the present architecture relevancy and the same time connecting the people with Wayang Orang once again, connecting the past and the present once again to represent living in between time.
The form and shape of the design shall invite contemporary society and provoke people to visit Taman Sriwedari and without them noticing, also direct the people into the heritage sites and of course catch a glimpse of Wayang Orang performance. a glimpse of look that may have huge power of change.
The spreading of modern entertainment facility such as movie cinema and night clubs renders Wayang Orang Performance unpopular and uninteresting in the eyes of the youths and modern urban dweller. The proof will be the GWO existing which has capacity of 500 audience but only gather 10-20 people/event, and none of these people are the youth.
With this issue, KOMA tried to include modern entertainment and education facility within its architecture program and design new theater to accommodate not only traditional but also modern and experimental art performance events with 1.400 people capacity.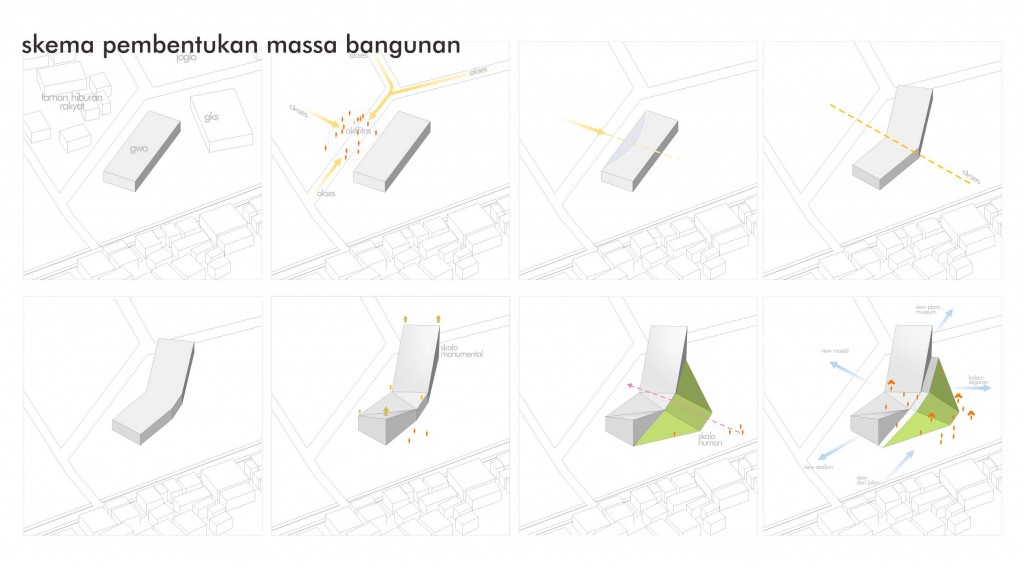 Public Transportation Hub
Through the design, we also propose a railway extension (Surakarta still perform tram as public transportation) for tram to certain points including UNS (National University of Surakarta) and KOMA. This railway will act as an interchange train station to increase accessibility of Taman Sriwedari, accommodated on the basement of KOMA, connected to the third floor entrance.
The entrance will be position on the front of the outdoor amphiteater to promotes outdoor performance.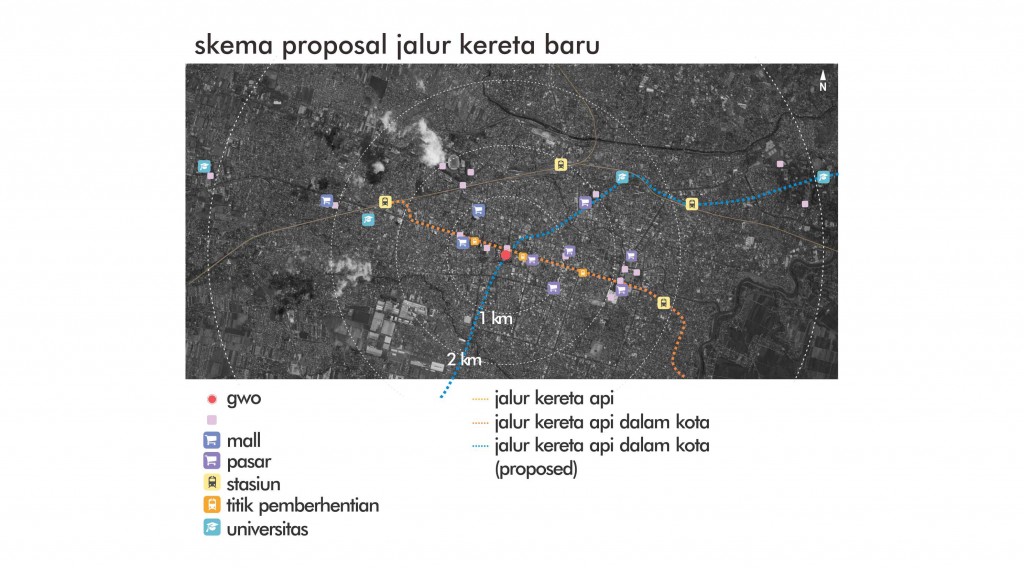 Commercial Hub
In the proposal KOMA will accommodate the street merchants into the building along with addition of retail as an anchor. In this area, people will be able to peek into the theater. This facility expected to trigger curiosity to the art performance, especially Wayang Orang performance.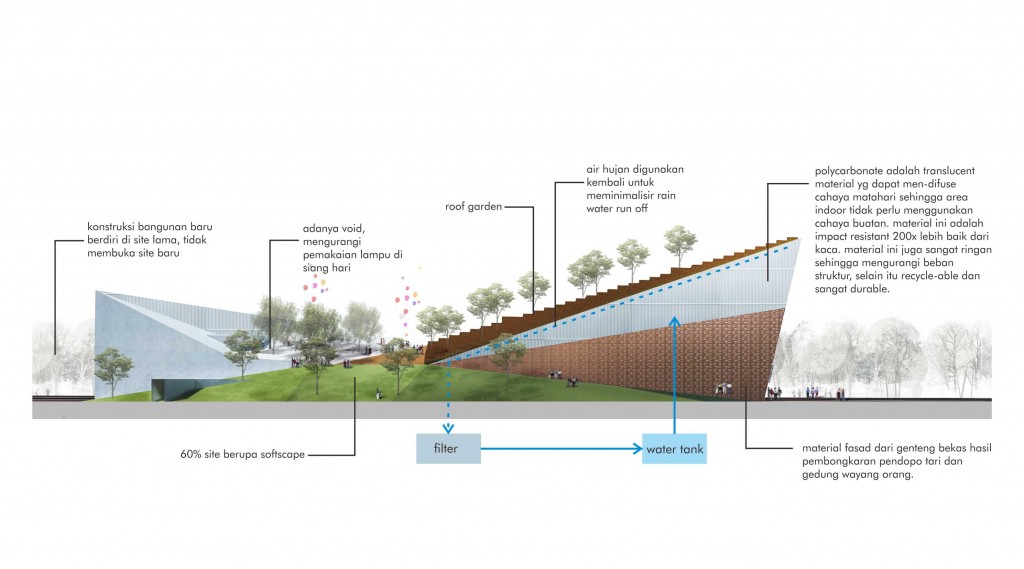 Youth Center
The third and fourth floor of the commercial hub will be function as co-working space and fitness center. As the outdoor amphitheater will facilitate a mini skate park, All of this to invite the youths into the the facility
Di lantai 3 dan 4 commercial hub, kami menambahkan fungsi co-working space dan fitness centre sebagai factor penarik anak muda ke gedung ini. Di area outdoor amphitheatre juga terdapat skateboard facilities.
Art Facility
The existing art facility will be demolished and identical function will be design as a unity with KOMA. This Art facility will include mini theater, museum, library, and outdoor amphitheater.