Terra | Gerbang Kaliurang Yogyakarta
Architect
Videshiiya
Paramitta Sekar
Location
Kaliurang | Sleman | Yogyakarta
Designers
Russelin Edhyati
Paramitta Sekar
Clay has been part of ingredients for building construction since ancient history. The Sumerian, Babylonian and Assyrian civilization was known for using clay as adhesive on brick construction. On other part of the world like India and South East Asia, people commonly use clay bricks as load bearing wall.
The use of clay then can be seen as part of Indonesian civilization from Indonesia pottery making tradition to classic building construction.
the tradition is one of those proof that clay has contextual bond with Indonesian everyday life and building tradition.
Gerbang Kaliurang is a gate to reach Kaliurang-Merapi tourism object. Local government usually build somekind of a post station to charge entrance fee to people who wants to enter and enjoy the area.
The station consists of parking area, payment booth, security & management office, and toilets.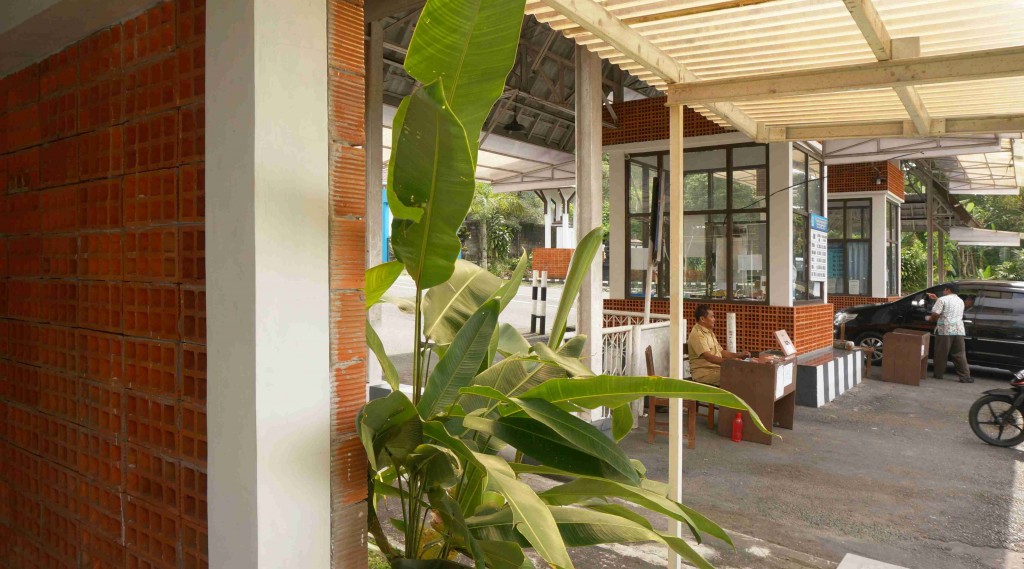 Suffering from vandalism and lack of maintenance & character, urge the local government to renovate and develop the existing infrastructure.
Our ideas is to use clay ventilation block (Roster) and designing its landscape to create new atmosphere and stronger, contextual character for the infrastructure, as if presenting the cultural city; Yogyakarta by reforming this new facade.
Ventilation block contextually fill the memories of Indonesian early civilization and tradition that did not exist on the previous design, while at the same time reduce the portion of painted wall which used to be perfect for vandalism.
we also infused the area with more vegetation, enriching the landscape with sort of communication between the building and its natural environment. Some perspective might suggest the building to be somehow ancient, a ruins among the landscape, hiding, blending.
The new facade now mirror the communication and hybridization between the old and new, between nature and culture, modernity and tradition as the society proved to be.